TLDR; Drunken Dragons is an RPG on the blockchain. Assemble a party, conquer, quest, trade and eat/drink with other players along the way, all while owning your assets as NFTs.  To learn more visit the DND Discord server (https://discord.gg/5TkMcXyA39).  Oh, and pixel art!!!
Dungeons and Dragons is a game that predates the internet. For most, it's meant for pen, paper, and dice. Over the years, the realm of fantasy gaming has evolved to encompass the latest technology, as it increased in capacity. Text games, when they were possible. Then, simple pixel games. Then videogames as we know them today. Now, you can even play DND style fantasy games in a virtual reality simulation, 'walking' through towns and adventuring as realistically as you possibly can.
It's no surprise that with the current technological trends, Blockchains featuring NFTs, are beginning to sprout games of their own. Drunken Dragon, a new fantasy game built on top of the Cardano cryptocurrency, hopes to be a pioneer in this arena, and just achieved its Alpha Launch on December 20, 2021.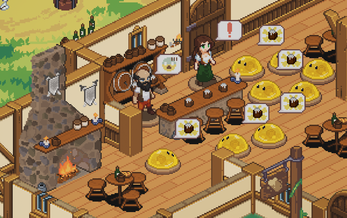 Blockchain/NFT Gaming in Drunken Dragon
I can't claim to be very knowledgeable of internet currencies and technology like Blockchain or NFTs. All I have for you is a simple summary. Cryptocurrency is digital currency which can be bought with standard money, swapped, mined, and also often traded like stocks, or used to buy online products and files. NFTs (non fungible tokens) are digital files, usually artwork of some kind, that are particularly difficult to counterfeit, that can be bought, traded, and sold for currency. Both are popular in online economic circles at the moment.  Some can even fetch millions of dollars. Consensus is that NFT's in some shape or form will be the future of gaming, allowing players to actually own their in game assets, transfer them to other games, and sell them as they wish.  Blockchain tech allows for this potential "borderless" freedom in gaming and opens up doors to endless in game economies, as well as many other yet-to-be discovered innovations.
For a quick rundown of the game, watch this video:
Drunken Dragons currently utilizes collection-style gameplay. To play the game, you assemble a party of adventurer (NFT) tokens, and (eventually) send them out of various quests, which take days, weeks, or even months of real time for them to complete. You'll need to consider just who you send, and how you supply them, carefully, since it's possible for them to actually lose, die and be gone forever! But, fortune favors the bold and the rarest and most powerful artifacts will only be uncovered by conquering the hardest quests.  
Drunken Dragon also rewards you by giving you furniture and other supplies along the way. The difference is, these rewards are all unique, not just to the game in general, but entirely. There are sets of adventurers that are completely one-of-a-kind (called Grandmaster Adventurers), as well as other in-game assets and adventurers with varying degrees of rarity (ie rare, uncommon, common, etc).  The rarest items may elude some players, but you will still be able to assemble your party however you see fit. Your party, therefore, will be completely unique to you. And should the opportunities to hoard more in-game assets not be sufficient, you will also be able to buy, trade, and sell assets with other inn-keepers in game or in secondary markets, just like you would any other token.  
Drunken Dragon: Inns, Individual Desktop Adventure
This is the first of the Drunken Dragon games that will be released and it is called "Drunken Dragon: Inns". It's a solo player game for the desktop, wherein you manage and configure your in while also displaying all of your collectibles.  Eventually, your Inn will be a launching pad for your party, and also a potential destination for other parties to fill up, get food and drink, and buy supplies.  But for now, in this 1st iteration of the game, we are limited to displaying items only.  The ability to create a diorama displaying all of your tokens is the main appeal of this launch, since you won't yet be able to trade or go questing (that is coming later in 2022).  
The Alpha Launch 0 allows for the

use of Series 1 Pixel Tiles

– the first set of tokens that they released for Drunken Dragon.

Alpha Launch 1, which will happen sometime in the first quarter of 2022, will

expand the game to include Series 2 Pixel Tiles

.

The Beta Launch, which will happen in the second quarter of 2022, will

add animation to the adventurer tokens

. This will allow them to interact with furniture and other tokens within your inn or tavern.

Finally, the full Release will

incorporate Series 3 Pixel Tokens, and open up to non-beta players.
Drunken Dragon: Inns and Quests, A Wider World for the Game
After the Beta release for Drunken Dragon: Inn, the game plans to expand into Drunken Dragon: Inns and Quests.
This secondary release will broaden the world, allowing you to connect with other players, trade with them, specialize your inn or tavern, and go on quests to find items and rewards instead of buying them.
The game will have a series of Alpha and Beta launches, just like the previous edition. Gradually, players will be able to quest, specialize their inns, interact with a vibrant in-game economy, and use Series 4 and 5 Pixel Tokens. There will also be expansion to the crafting and trading systems that earlier versions of the game will have implemented.
By the time that the full game is released, it will span an extensive world of interconnected inns and taverns, each exploring, adventuring, and decorating their businesses exactly as they please.
Going Forward from Inns and Quests
DND hasn't gotten specific with any plans post-full launch (and who could ask them to?), they do have a couple of ideas listed on their website. Player vs. Player combat (PVP), raiding (the ability to quest in groups) and world boss levels are all listed as potentials!  There is lots of hat going on in the discord server so I would recommend going there to check it out.
For an in depth overview of what the dev team has planned, check this out:
If you'd like to get involved, playing, or just keeping track of the game, you can download the Drunken Dragon: Inns game (www.drunkendragon.games) or join the DND Discord server (https://discord.gg/5TkMcXyA39).
If you've played Drunken Dragon, or other Blockchain/NFT games, we'd love to hear about your experience in the comments below! How does Drunken Dragon stack up so far?